"The Adventures of the Fox family part 1" - pages #4 & 5
---
< First Page (Cover)
< Previous Page
Next Page>
Archive
---
Summary :
A

collection of embarrassingly old stories I wrote almost 40 years ago, tied together by a comic in which Mickel Räv (without much success) tries to persuade his kids to go to sleep by telling bedtime stories about his adventures, like the ones about the trip to the moon, when he built a submarine, a highly unusual Christmas eve, the great car race, when Ricke prevented an attack and the three little runaways...

(Die-hard fans only — I wrote most of this chapter when I was 10 years old! I have no shame - I post this just for the sake of posting it!) You will find newer and better drawn adventures in the Archive!
Our next adventure: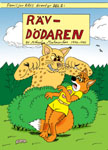 "The Fox-Killer"
---
If you for some strange reason don't like foxes you might prefer my other comic...